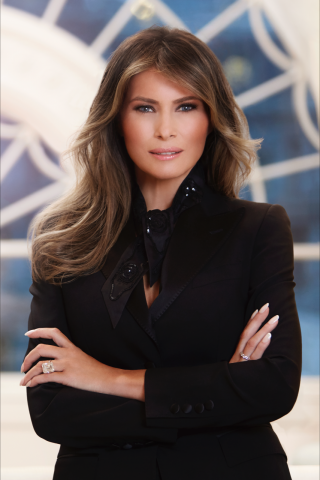 Melania Trump was born on April 26, 1970, in Novo Mesto, Slovenia. Mrs. Trump moved to New York in 1996. She married Donald J. Trump in 2005, and they have one son, Barron.
Mrs. Trump is the first First Lady to be a naturalized citizen. Louisa Catherine Adams, the wife of John Quincy Adams, was the first of America's First Ladies to be born outside of the United States.
Mrs. Trump has dedicated her time as First Lady to many issues affecting children. She utilized her platform to raise awareness about the dangers of opioid abuse. She frequently visited hospitals and care centers to meet with pediatric patients. Mrs. Trump also traveled both domestically and internationally to speak with students directly to understand the issues they are challenged with today.
In 2018, Mrs. Trump launched BE BEST—an awareness campaign focused entirely around the well-being of children. The campaign has three pillars: well-being, which includes the social and emotional health of children; social media, and understanding both the positive and negative effects it has on our children; and opioid abuse, and how to protect our most vulnerable from the effects of drug abuse while educating parents about the detrimental effects of opioids. After the launch, Mrs. Trump placed the campaign at the forefront of her agenda.